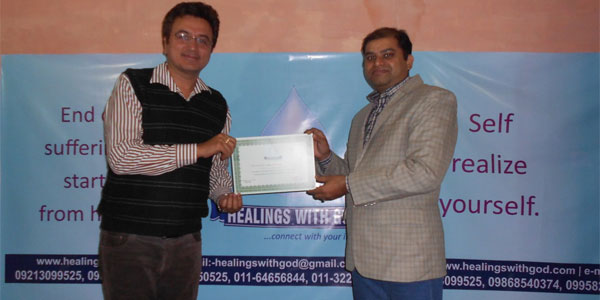 With so many good wishes and blessings of God, "Healings with God" established in the year 2013 in New Delhi, India. Mr. Bhupinder Kumar Prajapati is the respected founder of "Healings with God". He is a well-known personality in the field of spiritual learning and for designing and teaching various healing and spiritual courses. They have their holistic healing centre and reiki healing centre in Delhi. We, at "Healings with God" offer some of the best services like Energy healing, reiki healing, Holistic healing, Supernatural powers and Psychic power.
What is Energy Healing?
Energy healing endorses healing by increasing the energy flow in the human body. Basically, healing is all about to change your negative energy in to positive. With energy healing, you can improve the flow of energy in the energy field that supports the self-healing capacity of the human body. Healing is all about the negative energy removal and we offer best services for this.
Advantages of Energy Healing:
Energy healing therapy has number of benefits for us. Especially, when you are facing lots of stress and negative energy in your life. Energy healing can give you the ray of hope by removing all the negative thoughts from your mind. Energy healing advantages can include the following:
Balancing of negative and positive energy
Release of blocked energy
Release of emotions and healing
Managing stress to make you a positive person
Deep wisdom of calm and peace
Natural pain reliever
Improve immune system
Enhance personal insights
Removal of negative energy
Why choose us?
Today, healing is something which is not very popular in our country. To make this amazing therapy popular, we "Healings with God" offer several course. Energy healing course and holistic healing course are among the topmost and highly beneficial courses of our organization.
We offer certified courses.
We have best qualified and experienced people for your guidance.
We offer online courses.
We offer our services with easy to understand concepts.
We have course from basic to advanced level.
Our courses are highly effective and helpful to make your mind with full of positive energy.
We have reiki healing.
We support everyone to have some faith in their own personality. Bringing positive energy in everyone's life is our only aim behind the establishment of "Healings with God".